More fun with Google tools. This time I used the Google Trends Correlate feature to find out what the term climate scientists really means, because most of these so-called scientists are really frauds, charlatans, and impostors.
Google Trends Correlate finds correlations between web searches. Number of web searches indicates public interest in different topics. Web searches about scientists likewise correlate with searches related to their respective subjects, activities, or associations. For example, the term computer scientists correlates with introduction, programming languages, discrete, and electrical engineering. Medical scientists correlates with academy of future physicians and medical scientists, national academy of future physicians, and future medical. Simply entering scientists displays correlations with historians, biology, and homework. Biologists correlates with biology and chemistry. Meteorologists correlates with definitions of the, book answers, and a map. Physicists correlates with forensic science, geography and Hippocrates (an apparent confusion of physicists with physicians). Even social scientists correlates with observations. There are typically periodic (possibly seasonal) patterns in the searches about scientists.
The picture is different for climate scientists. Public searches for climate scientists appear in response to media events, and climate scientists has the highest correlation with climate change scientists, climate change deniers, climate change denial, man made climate change, and climate change consensus.
Drawing on these results and general knowledge, one easily arrives at two conclusions:
Both the general public and the pro-alarmist media perceive climate scientists as almost synonymous with climate change scientists. In the absence of a climate change scare, the "climate scientists" would have to look for honest jobs (this is happening in Australia and, possibly, in Yale University; unfortunately, real scientists and other innocents suffer as well). A strong conflict of interests is obvious.
The term climate scientists is not correlated with any scientific activity, institution, or information. Instead, climate scientists are recognized as protagonists in a soap opera, where they defend climate change consensus about man-made climate change against climate change deniers engaged in climate change denial.
In short: the public and even the alarmist media understand very well that so-called "climate scientists" are not scientists.
See the original graphs below. The graphs are linked to the sources.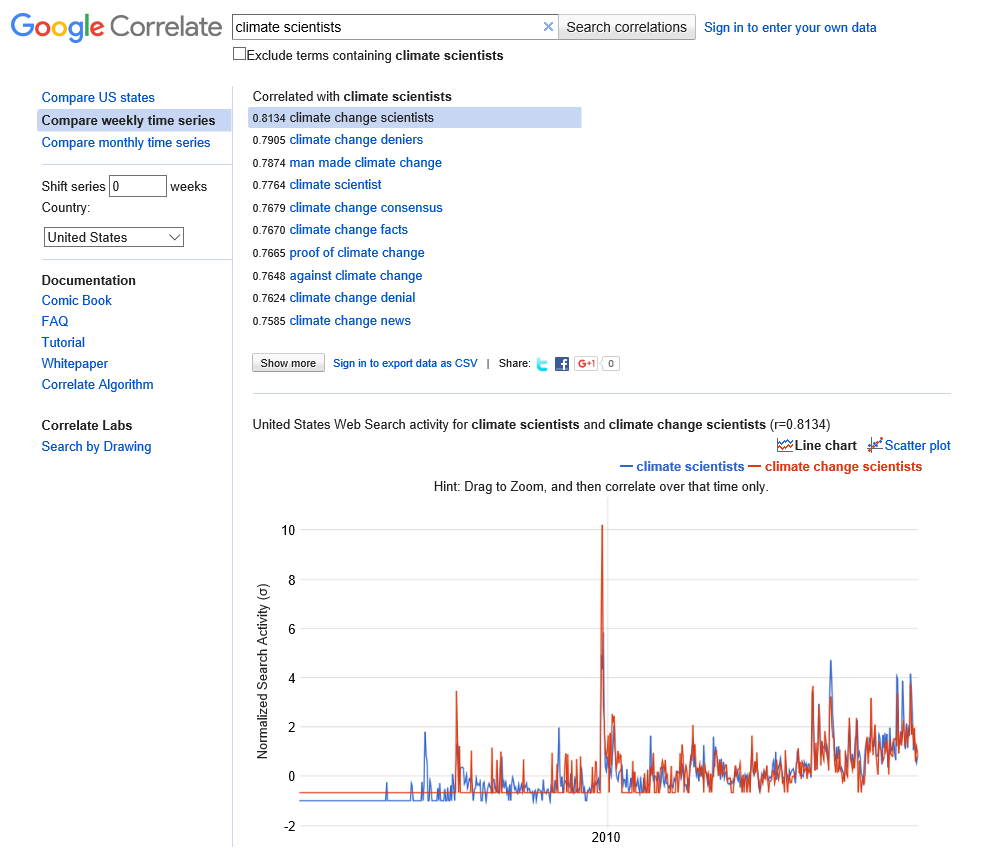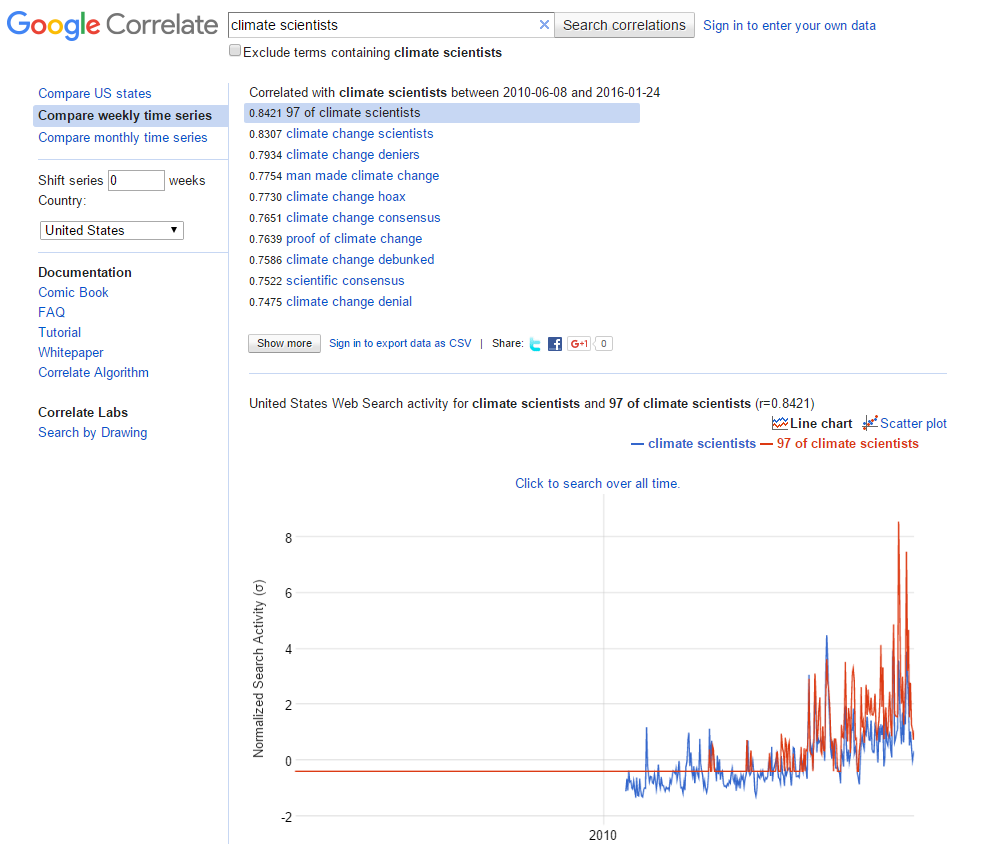 Google generously allows users to upload their own data for comparison, and to download output. In principle, this allows researchers interested in climate alarmism to correlate eruptions of climate hysteria with political and media events, and to find the worst culprits. This article reaches just one low-hanging fruit.
The Google Ngrams allows a slightly different kind of analysis.  See previous posts Alarmist's Chant and Climatist PR Offensive on this blog and the article History of Climatism in Google Ngrams on WattsUpWithThat.