One of the key allegations in the Russian hoax is that the DNC has been hacked by a Russian government hacking groups, such as a "group" named Fancy Bear by Crowdstrike and APT28 by FireEye. I fell for this trick, and have been using notation like Fancy Bear / APT28. Fancy Bear and APT28 are the same only in one sense – they don't exist as groups of people or organizations. If the names are used as names of malware families and/or intrusion scenarios ("what we call collectively APT28," in the words of Guillaume Poupard, the head French cyber security agency ANSSI), they refer to different things, not necessarily well defined.
For example, the Fancy Bear malware, allegedly found by CrowdStrike in the DNC network, and the APT28 malware described by FireEye have no common elements. They are totally different programs.
The Mueller report alleges that these non-existing "groups" are Russian military units, and describes their behavior in a third way, contradicting both CrowdStrike and FireEye (The Mueller Report, Volume I, pp. 36-40). Further, it comically claims that "GRU" conducted bitcoin mining to "secure bitcoins used to purchase computer infrastructure used in hacking operations." According to the Brennan-Comey-Mueller hoax, this was an intelligence operation ordered by Putin! The Russian Federation government annual budget is $200 Billions. The computer infrastructure used in hacking of Podesta, the DNC, and DCCC (by different entities) could be rented for less than $100 per month. Why mining bitcoin?
But I like the idea. Some federal agencies should self finance by mining bitcoin or doing anything else that results in a "proof of work".
Another funny feature of the Mueller investigation: where it doesn't rely on the fake news media, it is self-referential. The final report refers to earlier indictments of Russian persons, which have not and will not be challenged in court.
The MIS Department
MISDepartment, the inept network administration contractor that served the DNC in 2015-2016 and on which watch the hacking happened, was well aware of "Russian hacking" and "APT28". One of the links points to a FireEye report on "APT28".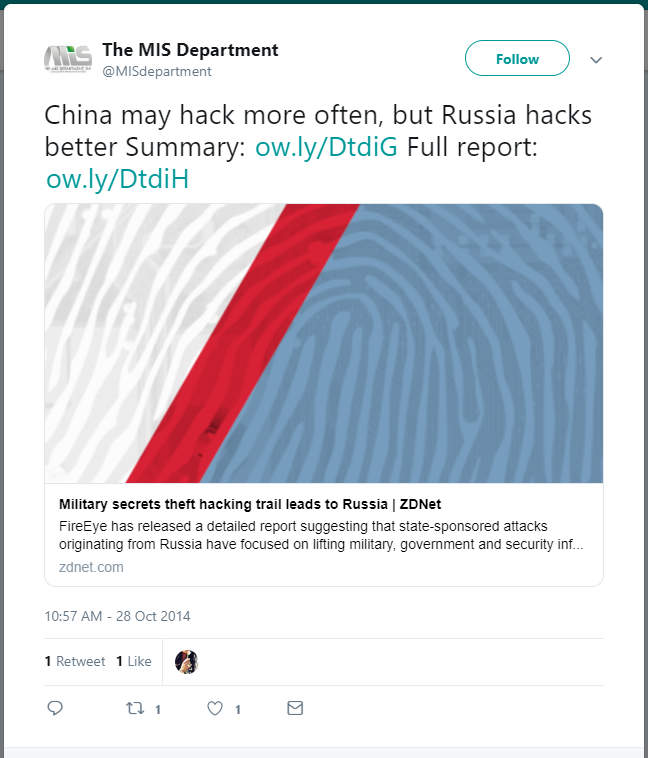 China may hack more often, but Russia hacks better Summary: 

http://

ow.ly/DtdiG

 

 Full report: 

http://

ow.ly/DtdiH