Update 2018-11-27: John Brennan and Robert Mueller spoke at some privately funded conference in Georgetown University in 2014. Brennan introduced Mueller as a great friend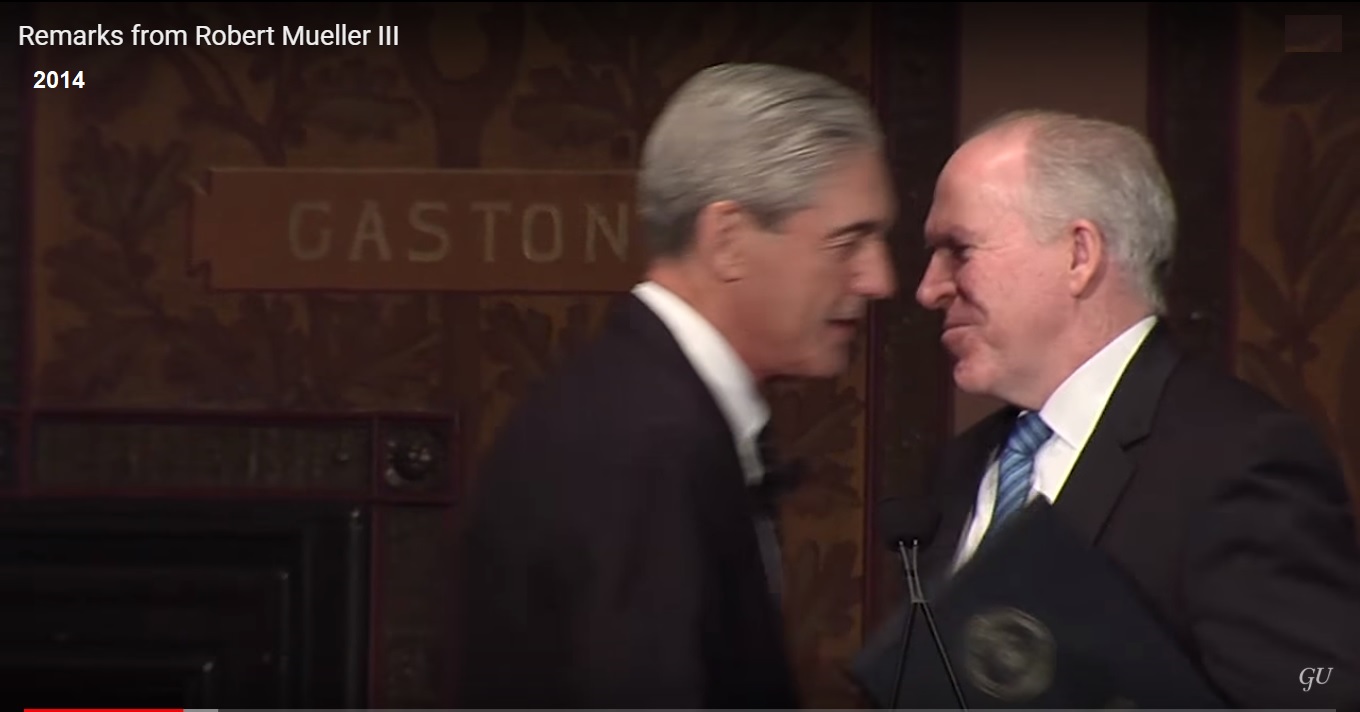 and said they have been working together in early 2000's and the last five years. Watch at two minutes from the start. Also, 18 minutes from the start Mueller says "I became a prosecutor because I liked putting people in jail"
Update, 2018-08-28: four days ago, the NY Times published an article "Kremlin Sources Go Quiet, Leaving C.I.A. in the Dark …" If this is true, Mueller might have burnt those sources by publishing his throwaway indictment, as described in the original post. Only one or two names of the "indicted" GRU officers were publicly known before Mueller's indictment. This said, the NY Times became a worthless tabloid. It seems to consider non-existent sources of Christopher Steele as"informants close to President Vladimir V. Putin and in the Kremlin who provided crucial details."
Robert Mueller has multiple conflicts of interest stemming from his relationships with James Comey and from him being a Democrat partisan.  Here, I show two other conflicts of interest, a disclosed and an undisclosed one. Each of them is sufficient to terminate him.
Conflict #101: Robert Mueller represented Facebook
In February 2018, Robert Mueller made a ridiculous indictment of Russian citizens and corporations in Russia for Facebook posts intended to sow division and interfere with the 2016 elections (USA v. Internet Research Agency et al).  The IRA paid Facebook and entered posts into its database. Facebook received money from the indicted and non-indicted foreign persons, selected recipients and shown them those posts.  Facebook is the only entity that can be held accountable for the alleged misconduct. Why didn't he indict, or, at least, investigate Facebook as a possible co-conspirator, accessory, or enabler? A hint: Facebook was one of Mueller's clients in the Wilmer-Hale law firm, as he disclosed when he accepted an appointment as a special counsel. Robert Mueller was making about $3.5M a year by representing Facebook, Apple, Intel, etc. Robert Mueller also holds a small investment in Facebook according to the same disclosure.
Conflict #102: Robert Mueller is Connected to CrowdStrike
2) One of the biggest scandals of Mueller's investigation is his refusal to inspect the DNC servers to determine the source of the DNC hack

— Techno Fog (@Techno_Fog) November 1, 2017
When the DNC network was allegedly hacked in April-June 2016 and the hackers got access to troves of data that likely included classified national security information, the DNC refused to give the FBI access to its computer(s) and then destroyed the evidence.  Mueller has not investigated the destruction of evidence by the DNC because of his allegiance to the DNC. The DNC called in #CrowdStrike, a shady cybersecurity firm with ties to the Democratic Party and Obama's FBI to investigate and/or cover up the incident. Why hasn't Mueller investigated CrowdStrike, the DNC cybersecurity contractor and likely DNC's accomplice in the destruction of evidence? Hint: One of CrowdStrike's owners and top officers is Shawn Henry, Muller's protégé and executive assistant in the FBI who remained in contact with Mr. Mueller while in CrowdStrike.
(CHRISTOPHER PAINTER) I called Shawn Henry who just recently retired who happened to be in an executive retreat with Director Mueller who was having dinner with him and he said, "Hey, this happening."  From http://www.atlanticcouncil.org/?id=10323:building-a-secure-cyber-future-transcript-5-23-12
Lawyer Steve Chabinsky is another Mueller assistant who became a general counsel in CrowdStrike. CrowdStrike is the key not only to the conspiracy theory of the Trump-Putin collusion, but to the foundation of it — allegations that the DNC data has been stolen and leaked by the Russian government. Later intelligence services assessments entirely relied on the data from CrowdStrike, and significantly relied on the attribution by CrowdStrike. Shawn Henry and Dmitri Alperovitch of Crowdstrike were invited, but refused to testify before the House Intel Committee.  Nevertheless, Mueller has shown absolutely no interest in investigating #CrowdStrike.
Ken, isn't Sean Henry a consultant for @NBCNews?

— Jeffrey Carr (@jeffreycarr) January 5, 2017
Mueller and CrowdStrike are linked much stronger than it seems. In March 2012, Mueller said that "Attribution is critical to deter future attacks." In less than two months, his executive assistant director Shawn Henry became a President of CrowdStrike Services, a company that specialized in making such attributions – without evidence or verification, but with impunity. CrowdStrike and Mueller even used similar sentences.
Mueller, in the same speech: "I am convinced that there are only two types of companies: those that have been hacked and those that will be. And even they are converging into one category: companies that have been hacked and will be hacked again."
Dmitri Alperovitch, CTO of CrowdStrike, July 2012 (four months later): "There are two kinds of companies left in America that have intellectual property: those that have been hacked and know and those that have been hacked and don't know it."
Mueller has revealed classified CIA sources and methods
The names of the GRU officers ridiculously "indicted" by Robert Mueller for the sole purpose of sabotaging president Trump before the US-Russia summit are a Russian military secret. They have probably been obtained by covert means. Thus Mueller compromised CIA methods and sources used to obtain these names. This might be a violation of 18 U.S. Code § 798 (Disclosure of classified information) and/or 50 U.S. Code § 3121 (Protection of identities of certain United States undercover intelligence officers, agents, informants, and sources), each of them carrying a penalty of up to 10 years in prison.
Note that Mueller's "indictments" of Russian residents cannot lead to trial but gives them the opportunity to demand and receive information compiled by Mueller on people and organizations close to the president, and to learn even more about U.S. intelligence sources and methods.
It's already known that Robert Mueller has revealed the identity of Felix Sater, a Russian-born American citizen and CIA undercover agent who had completed multiple successful missions abroad – unlike former CIA Director John Brennan. Sater is a convicted felon, but that does not exclude him from protection under 50 U.S. Code § 3121.
Mueller is a dirty prosecutor
Representative Louie Gohmert (R-TX) has recently published a report Robert Mueller: UNMASKED. My personal take:
Mueller's prosecution method was to select a target and then to destroy it

by any means necessary

, especially by the abuse of process and prosecutorial discretion. His favorite victims were businessmen and Republican lawmakers.

Mueller apparently believes that the FBI should be above all other authorities, like the Soviet KGB in the 1930-1950s. His actions as a Special Counsel reflect this demeanor.

Mueller forced the resignation of hundreds of the most experienced FBI field agents, thus weakening FBI capacities in the fight against crime and foreign threats and concentrating the power of his Washington office.
First published on July 19, 2018.