Google blocked access to An Effective Treatment for Coronavirus (COVID-19) by James M. Todaro, MD, and Gregory J. Rigano, dated by March 13, 2020. This paper was widely credited (blamed by the Fake News Media) for proposing chloroquine and hydroxychloroquine as an effective treatment against COVID-19. How can someone rationalize removing information about a possible cure, amid a global pandemic? Are there still humans in charge at Google?
This paper (as updated by March 18) cited the successful use of chloroquine in China and hydroxychloroquine in South Korea for COVID-19 patients, in vitro experiments by Didier Raoult's IHU, and CDC publications.
Google blocked access to and/or deleted this paper on March 20, 2020 – the day after President Trump mentioned chloroquine as potentially effective drug against COVID-19. When Trump spoke, at least one significant clinical trial of HCQ+AZ for COVID-19 was completed. The reporting article (Hydroxychloroquine and azithromycin as a treatment of COVID-19: results of an open-label non-randomized clinical trial  by Philippe Gautret et al., Didier Raoult's IHU) has been peer reviewed and accepted by the prestigious International Journal of Antimicrobial Agents. Trump or his advisors probably knew about this paper. 
Health care professionals and the public were given the impression that there was no scientific evidence supporting these drugs' efficiency against COVID-19. Google also blocked access to the Spanish translation of this paper. Google blocked access to Effective Treatment for Coronavirus just hours after the French paper reporting the successful clinical trial of HCQ+AZ was published online.
By that time, there were already many references to Effective Treatment for Coronavirus on the web. An example is Elon Musk's March 16 tweet "Maybe worth considering chloroquine for C19" with a link to the paper. However, starting late on March 20, clicking any of these links would only lead to Google's page "GOOGLE DOCS We're sorry. You can't access this item because it is in violation of our Terms of Service." It is remarkable that proposing a cure for a pandemic be violation of Google's Terms of Service.
This is escalation of the COVFEFE 'trick' – Google removed this word from Google Translate after Trump used it in a tweet. This time, Google misconduct might have caused tens of thousands of deaths.
It is important to note that this scientific paper was on a private Google Drive, not on YouTube or a Google-hosted blog. Google messed with a person's private computer – Google Drive is usually mirrored on one or more computers or phones. It is unknown whether Google only blocked external access, or deleted this paper, or deleted all the documents on that particular Google Drive account.
Effective Treatment for Coronavirus contained a short review of the existing science and recommendations for medical professionals and public officials. It was not formatted as a scholarly paper and it used the term white paper. It was not written as marketing or self-medication advice, and could not be confused as such. Restricting access to it could not have been done by Google in good faith. Good faith is the necessary condition for Section 230 protection against civil liability. This action demonstrated sheer malice.
Notice that Google have not only deleted or blocked access to the paper. Even more importantly, Google also defamed it in its "We are sorry" page. I can easily imagine how even top doctors could be convinced by Google that HCQ for COVID-19 is a hoax. An example of the people's reaction:
There are some questions about the legitimacy of this paper. Google docs have banned its posting. We leave it up with this warning, please do more research than just reading this article.
But Google was not the only culprit. Effective Treatment for Coronavirus was widely discussed on Twitter. Twitter, too, defamed and and interfered with the access to this paper, independently of Google. A user, clicking the link to this paper, Twitter showed the page: "Warning: this link may be unsafe". Only after selecting a tiny "Continue" link on this warning page, the user would be allowed to navigate to the intended URL, and to see "We are sorry" from Google. Double defamation.
Screenshots
Twitter's warning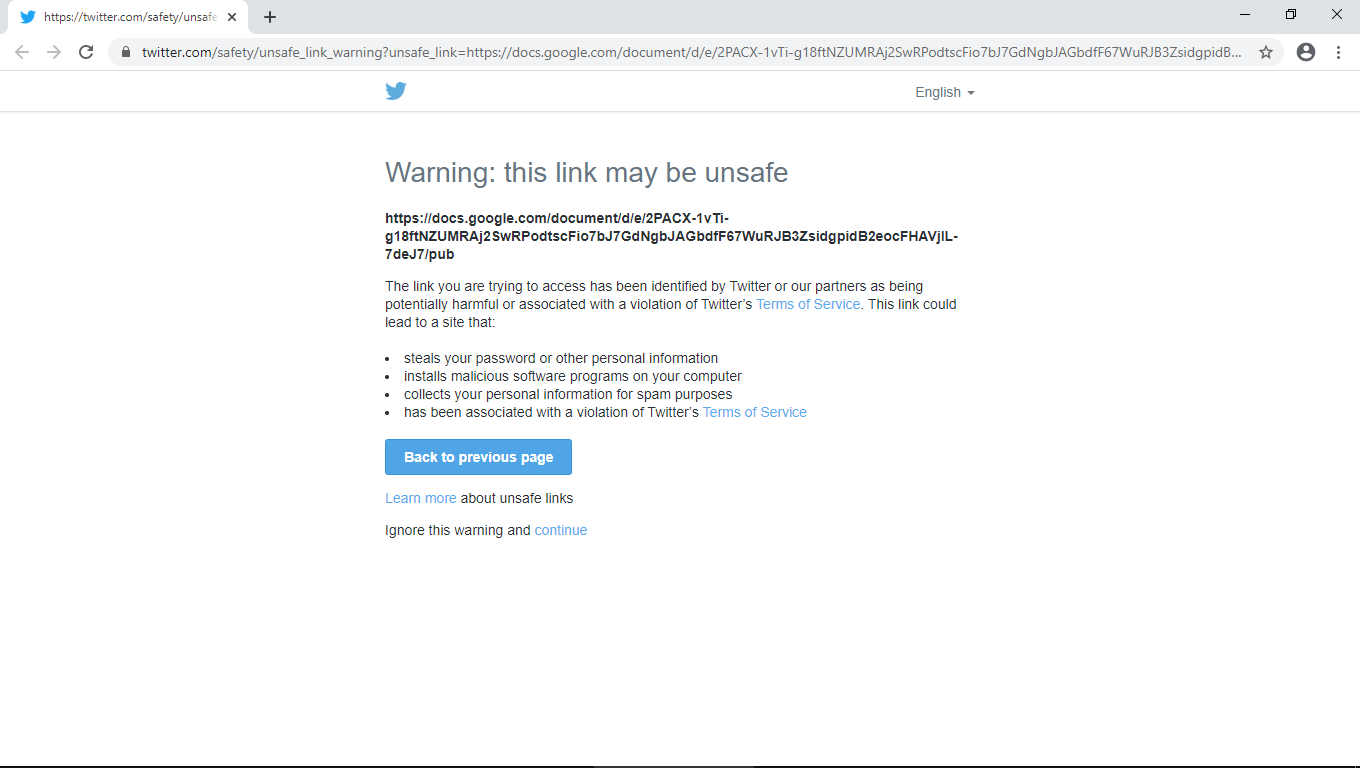 Google Docs' Access Denied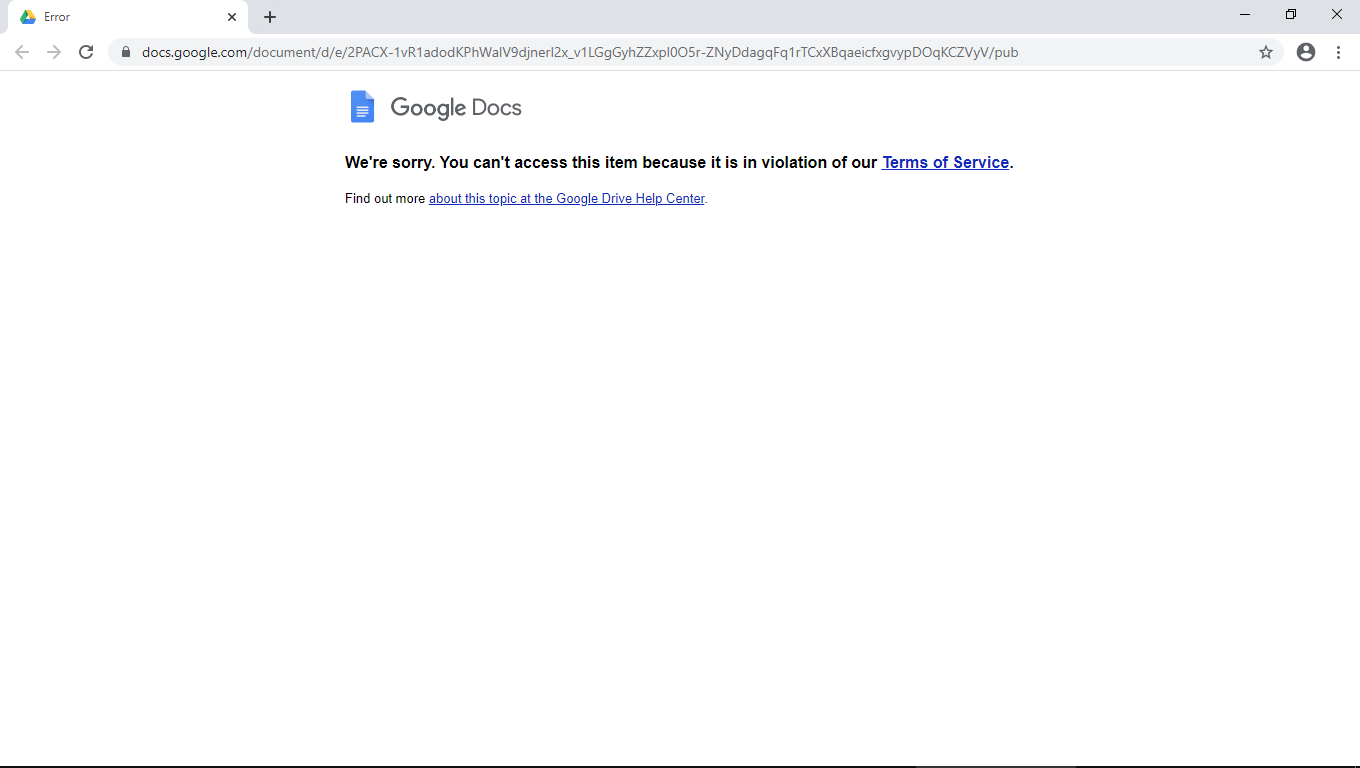 May 14, 2020: Google continues the war on Hydroxychloroquine. This search was conducted in Texas using a browser in clean configuration.